Gower Peninsula Coastal Path
Holiday Ref: Walka 314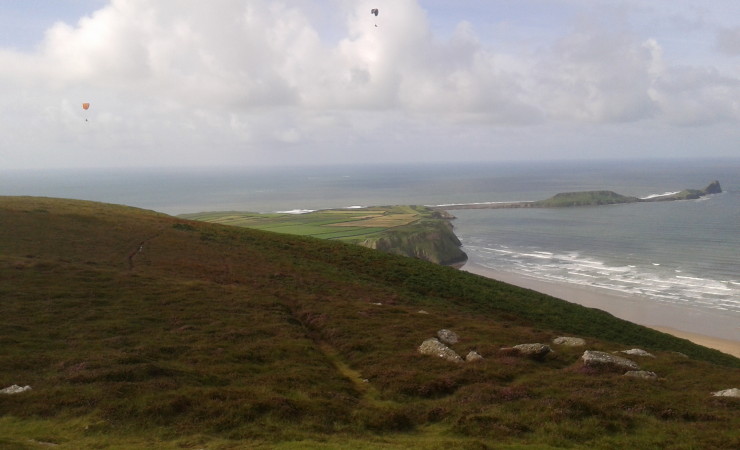 "The wonderful and varied landscape of the Gower Peninsula (Welsh: Penrhyn Gwyr) was the first place in Britain to be designated as an area of Outstanding Natural Beauty (AONB) by the Countryside Agency on behalf of the UK government, and is one of only five within Wales. 2006 saw the Gower Peninsula celebrating its 50th year as an AONB, an accolade that has truly stood the test of time as you will discover when you spend some excellent walking time in the area".
Within such an enclosed area the Gower Peninsula is surrounded by the Bristol Sea on the southern side and Atlantic Ocean on the western side, this has produced a haven for some of the richest wildlife and varied habitats in Wales and the rest of the UK.
Scattering the landscape in Gower are historic reminders of past 'Gowerians', from castles medieval churches, iron age fortifications, and prehistoric standing stones. All this against an awe-inspiring, natural backdrop of hills, valleys beaches, clifftops, commons woodland, dunes, marshes and caves.
With its vast populated history, stretching back as far as Lower Paleolithic times (250,000 BC), long-established stories, whether they be folklore, legend or fact, are plentiful and furnish the rich and delightful tapestry of the Gower Peninsula.
Daily Walk Itinerary
Day 1: Arrive near Penclawdd
Day 2: – Llanmadoc    9 miles/14.4 km
Day 3: – Rhossili       10.2 miles/16.3km
Day 4: – Oxwich        11.6 miles/18.6km
Day 5: – Mumbles      11.9miles/19 km
Day 6: Depart from the Mumbles
Included in the price of £440 per person, based on 2 people sharing. (£35.00 daily supplement for single walkers)
The holiday can be adjusted to meet your requirements. please fill in the holiday enquiry form.

On call for help with any problems.
5 nights B&B accommodation, 4 days walking.
Luggage transfer (carried by Walkalongway).
Maps and direction to accommodation.
Please fill in the Walking Holiday Enquiry form.